As of inFlow On-Premise v3.3.1, you can now set the time and location of the automatic inFlow backups. The auto-backup procedure can be done only if your server computer is turned on and the inFlow inventory service is running.
To change when and where inFlow backs up your data automatically, go to Main Menu > Options > Settings > Auto-Backup.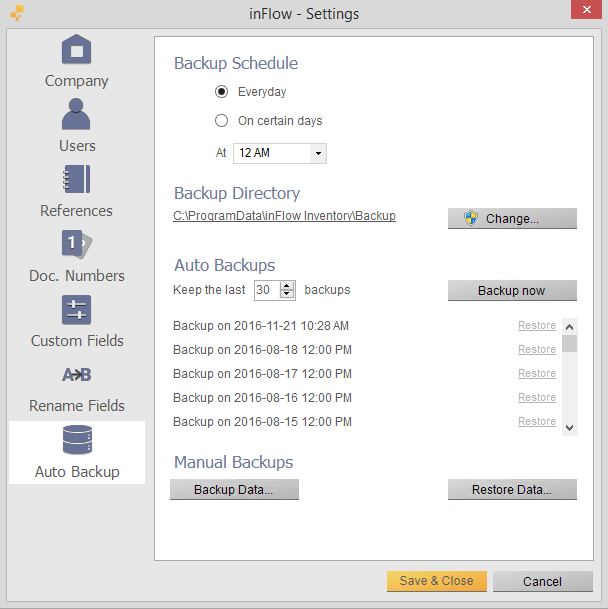 You can choose to backup Everyday, or if you click the On Certain Days button, you can choose which day of the week to backup (for example, every Friday at 10am). Please note that your inFlow server computer must be turned on and logged into Windows in order for inFlow to perform the auto-backup, but the inFlow program itself does not need to be running.
You can click the Change.. button to browse to a folder you'd like to save your auto-backups to. Note that inFlow must have permission to access this location. If you get a message that says: "inFlow does not have access to <>. Please pick another directory" , it's likely you're setting it to a remote directory or a directory to which you only have read-access. You'll have to choose another folder/directory in this case.
inFlow currently cannot save auto-backups to an external drive or a network drive. It is possible to save them to folders provided by cloud services like Dropbox or Google Drive.
What if I'm running an older version of inFlow?
Our older versions of inFlow (v3.2.2 or earlier) do not offer the ability to change the auto-backup location, due to technical limitations. If you're still using v3.2.2, consider updating!
Otherwise, if you don't want to update, it is still possible to set up your own auto-backup procedures on the server computer (though this isn't supported).  .
Here's one tool that might help with this:
It has a free version that allows you to schedule backups to Dropbox or an FTP server. When specifying a database to backup, select the "inFlow" database.
You may need to know how to access the underlying database outside of inFlow in order to do this. 

Need more help? Check out our blog article on how to setup a cloud service to backup inFlow.