We discontinued development of inFlow On-Premise in 2018 and we will sunset this product on July 31, 2024.
After sunset we will stop selling or activating new licenses for inFlow On-Premise and stop providing support (including online KB articles).
If you need inventory software that can be used on any platform and offers over 90 integrations, please have a look at inFlow Cloud.

inFlow On-Premise will not receive new features. For consistent updates and improvements, please have a look at
inFlow Cloud.
Locally hosted,
one-time purchase,
inventory management software.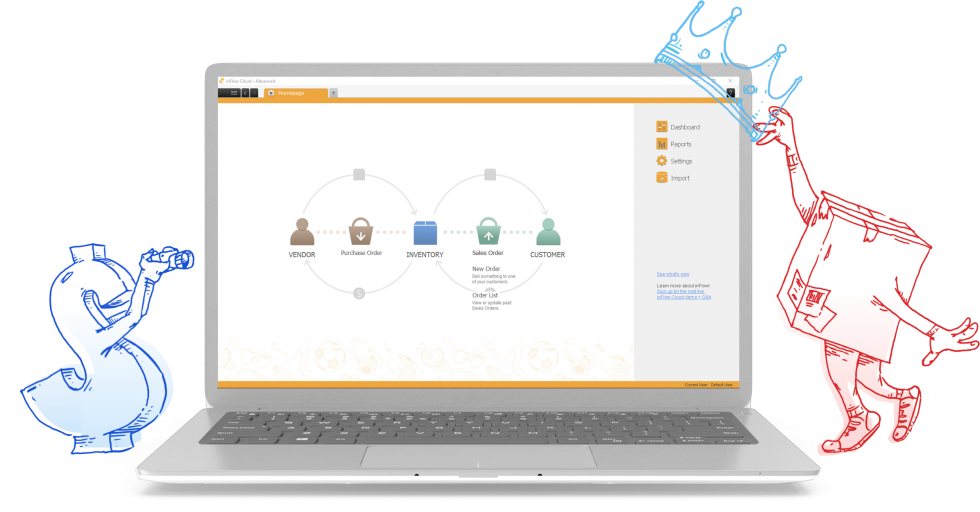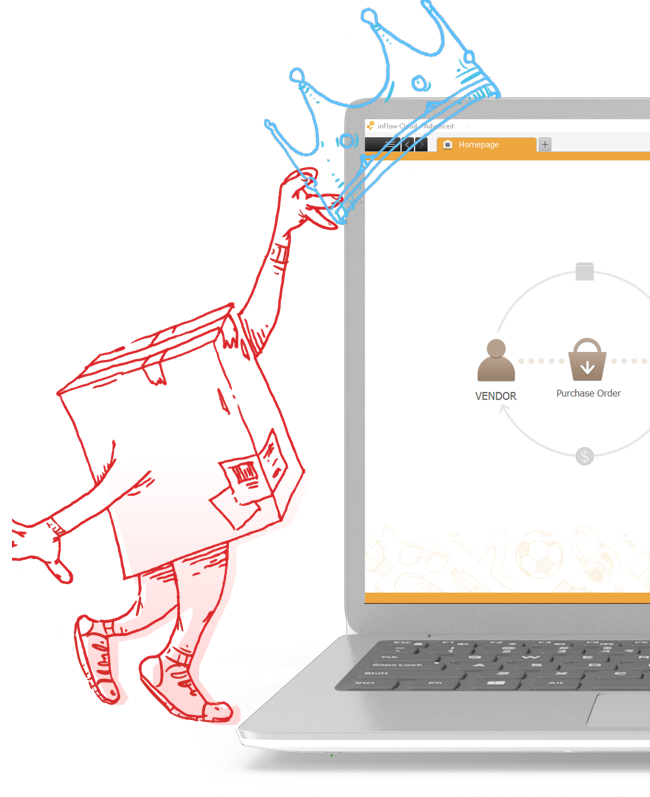 What is inFlow On-Premise?
It's a Windows app that helps your small business track orders and stock levels. Your data is hosted locally and syncs to other computers at your office (if you need anytime access to your data, we recommend inFlow Cloud).
inFlow On-Premise is available in three editions:
Free is limited to 100 products and customers in total, so you'll need a Regular or Premium license to manage more products and customers.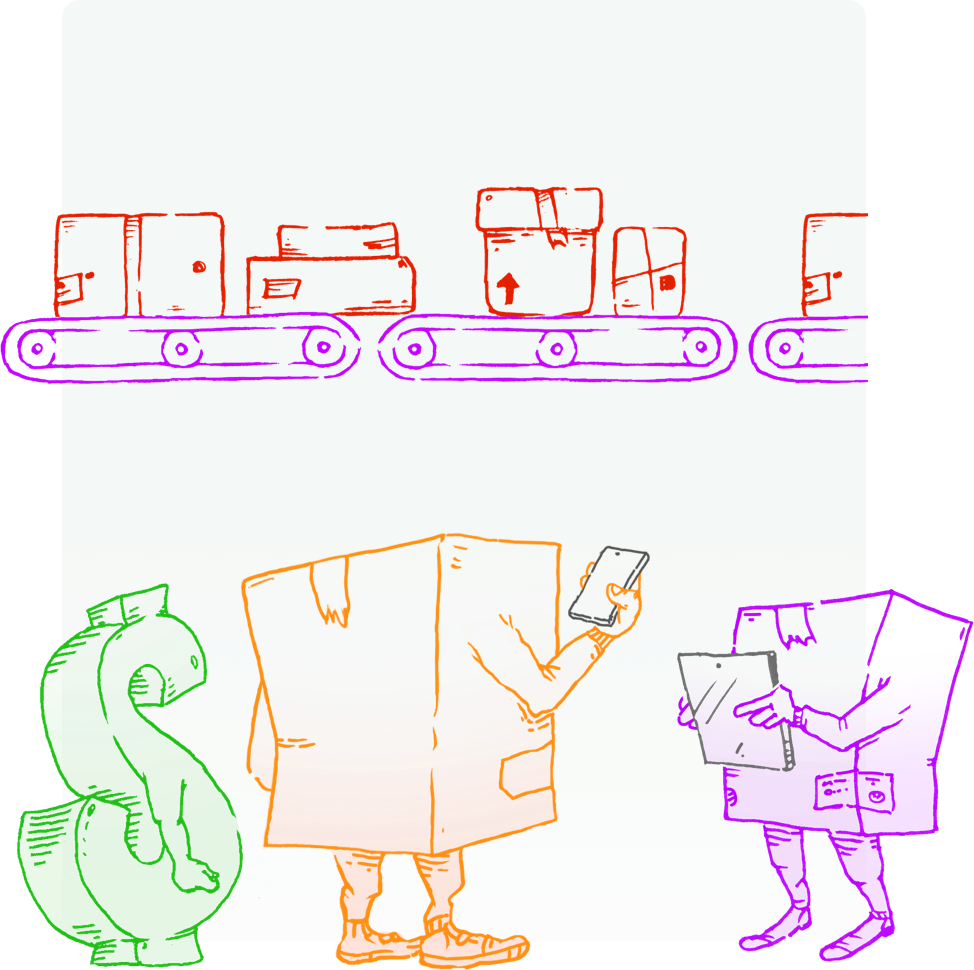 Track orders. Manage inventory. Save hours.
Are you using multiple spreadsheets to manage your business? inFlow On-Premise can streamline your workflow by putting your products and your profits in one place. You'll have one master record of how many products are going out and how much money is coming in.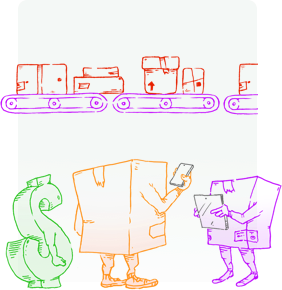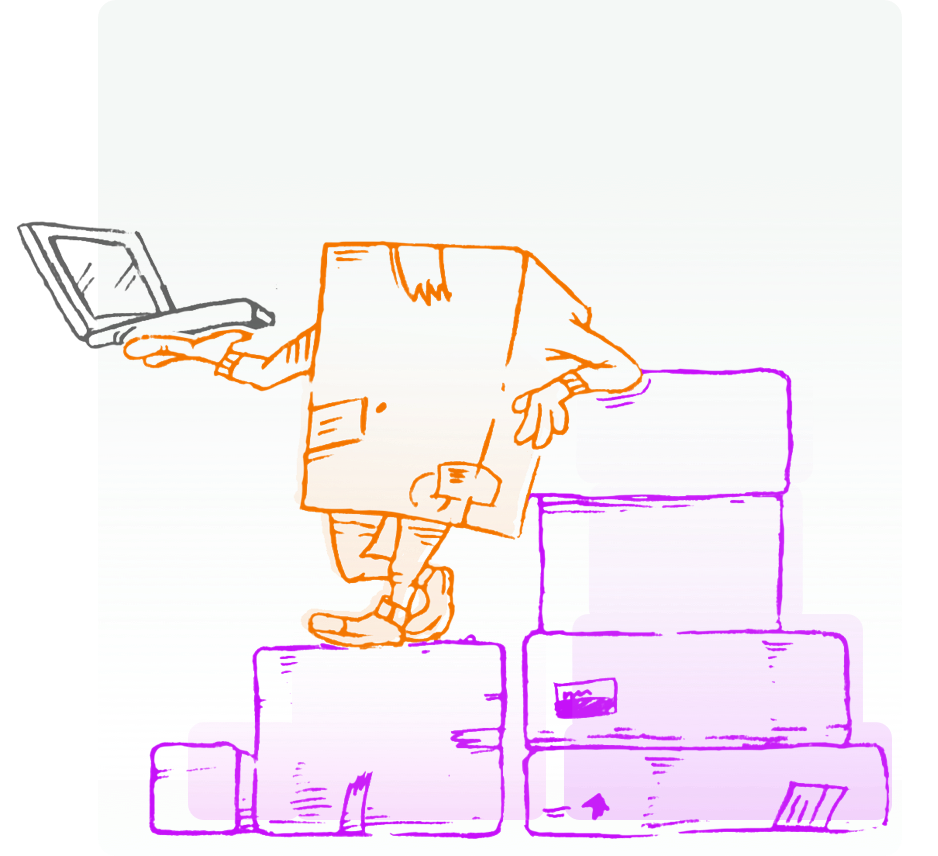 Stay in sync, even without the internet.
Because inFlow On-Premise is hosted locally on the Windows computer at your office, there's no need for an internet connection. On-Premise syncs your data over your local network, so only the computers at your office will have access.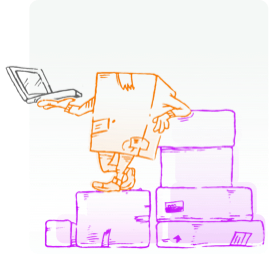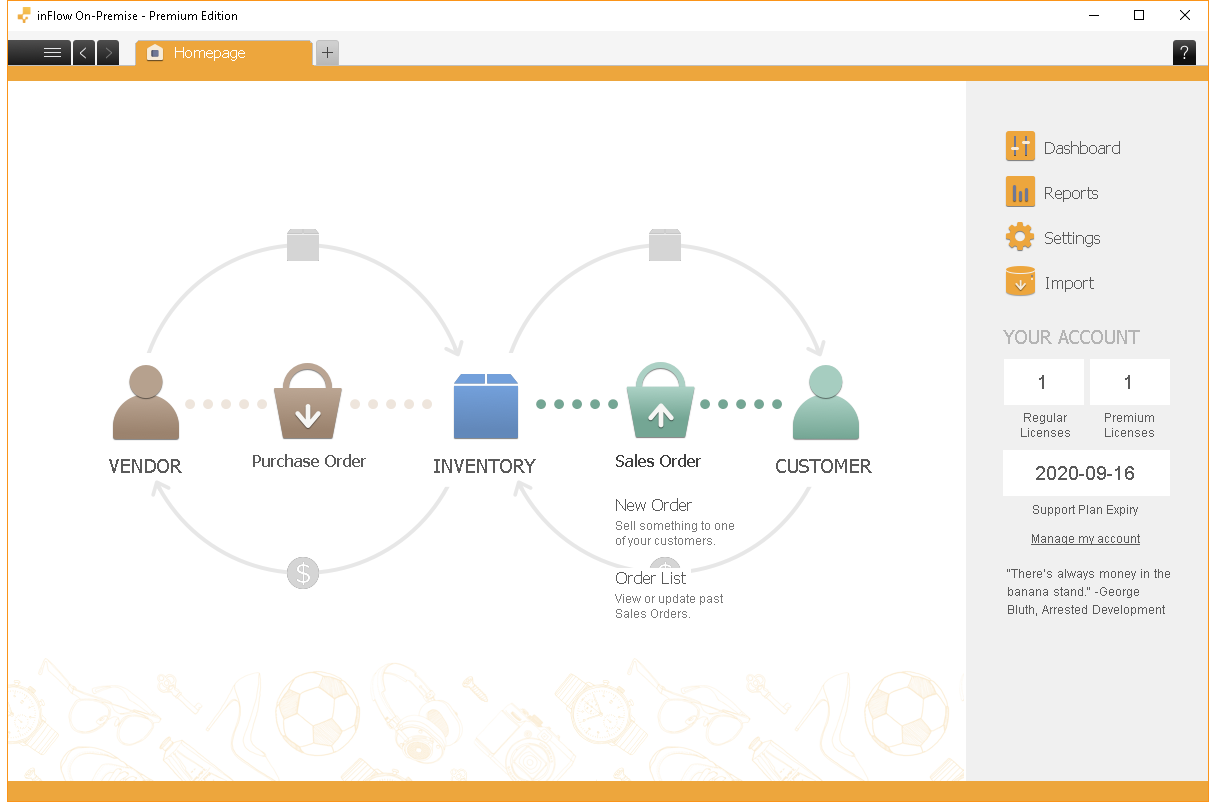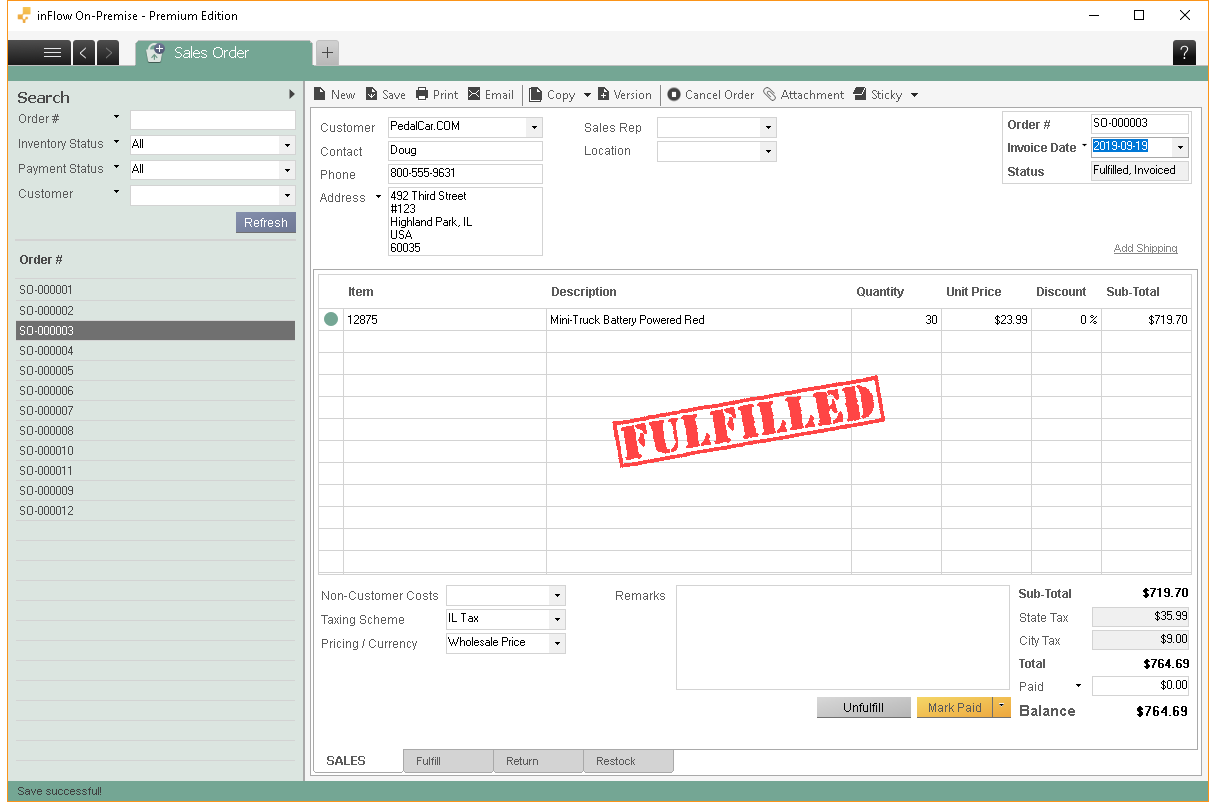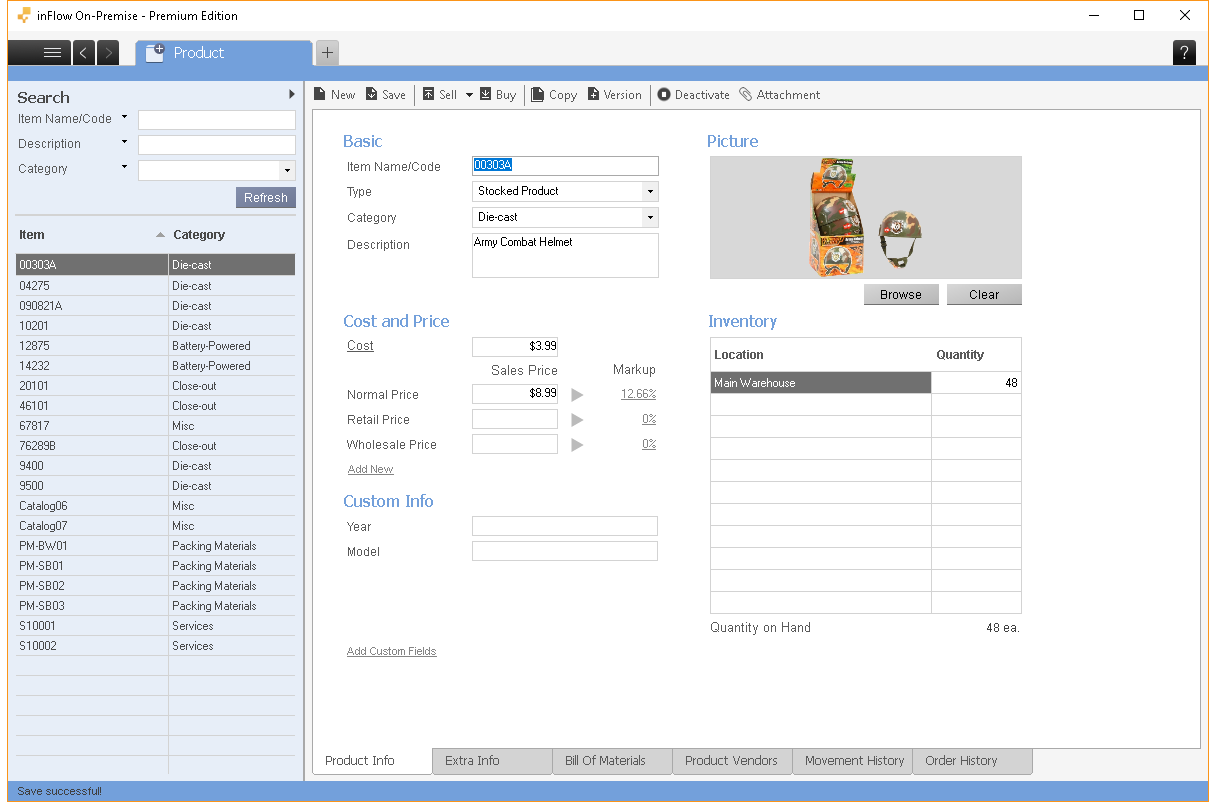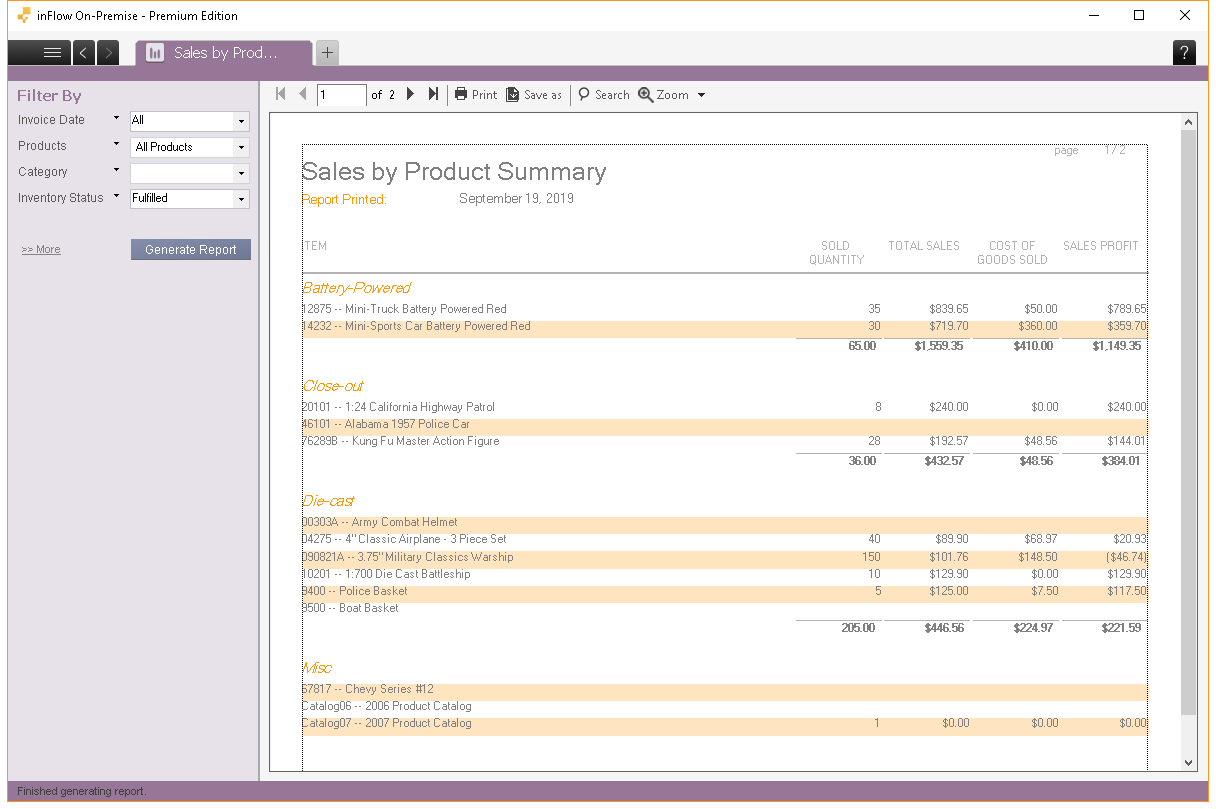 Licenses
Premium
Regular
Free
Who is it for?
Premium Edition is best for manufacturers or those who sell serialized products.
Regular Edition offers the best value for unlimited order and inventory management.
Great for smaller retail or wholesale businesses, or for tracking office assets.
Any limits on records?
Unlimited products
and customers
Unlimited products
and customers
Supports up to 100 products and customers in total
What's it cost?
799 USD
per license
399 USD
per license
Free forever
Any ongoing costs?
Free year of support with purchase. Optional 199 USD
per license to extend support another year
Free year of support with purchase. Optional 99 USD
per license to extend support another year
No technical
support provided
Unlimited Products & Customers

Include  v

Included

Up to 100
Reports
32
28
15
Custom documents

Included

Included

Support (Chat, callback, email)
1 year included
1 year included
Assembly/ Kitting/BOM

Included

Track serial numbers

Included

Restrict
access rights

Included
Compare inFlow On-Premise
and inFlow Cloud.
inFlow On-Premise and inFlow Cloud provide similar features, but they are entirely different products. This table will explain the differences between On-Premise and Cloud so that you can decide which of our products is right for your business.
inFlow On-Premise
inFlow Cloud
Where is my
data stored?
Your data is stored locally on a single office computer.
Your data is stored online with 256-bit SSL encryption.
How do I pay
for it?
One-time license purchases.
Monthly or annual plans.
Can it run on a Mac or PC?
Windows PCs only.
Our web app supports PC and Mac.
A Windows app is available, too.
Do you support smartphones?
No, On-Premise is Windows only.
iPhone and Android are both supported.
Scan barcodes, pick or receive stock, and more.
Barcode support
Manage and scan barcodes—Windows only.
Generate barcode labels from any desktop.
Scan barcodes from a desktop or smartphone.
How do backups work?

Daily backups are kept on your server computer.  

Backups are stored in multiple locations around the world.

What does it integrate with?

No integrations.

Shopify, Amazon, Squarespace, WooCommerce, DYMO printers, Zapier, QuickBooks Online. 

inFlow Cloud also has a public API.

Can I send a product catalog?
No, but you can export CSVs and email them.
Yes, you can create B2B portals with private pricing and online ordering.
How about technical support?

One year included with a license purchase.

Support is included with all plans.
Do I get updates?

inFlow On-Premise will not receive any further feature updates.

inFlow Cloud is updated regularly—usually on a weekly basis.
Frequently Asked Questions
Can I use both inFlow Cloud and inFlow On-Premise?
No, Cloud and On-Premise are separate products and your data won't be synced between the two. If you're already using inFlow On-Premise, you can migrate your data to Cloud (but info can't be pushed back into On-Premise from Cloud).
Does On-Premise Free Edition have limitations?
There are two main limitations to our Free Edition:
1. There is a hard limit of 100 products and customers in total. Once you reach 100 products and customers combined, you will no longer be able to make changes in the Free Edition. At that point you will have to purchase a Regular or Premium license.
2. We don't provide support via phone, email, or chat for the Free Edition, but you'll always have access to our On-Premise Knowledge Base.
Do you offer a trial of the On-Premise Regular or Premium editions?
Yes, and no credit card is required! Download and install the Free Edition and you'll see an option on the home screen to activate a 30 day trial of the Premium Edition. After 30 days, it reverts back to the Free Edition.
Can multiple people use inFlow On-Premise?
You can create an unlimited number of user accounts. Additional licenses are needed for as many people you want to be able to edit in inFlow On-Premise at the same time.
For example, two licenses means two people can edit in inFlow simultaneously. Extra users will still have read only access.
Is On-Premise really a one-time fee?
Yes! The license fee is one-time and includes one year of support. If you'd like to continue having support, you can subscribe to an optional support plan ($99/year per regular license, and $199/year per premium license).
Can I mix Regular and Premium On-Premise licenses?
Yes! You can even set which users get to use which license and when.
What's the refund policy for inFlow On-Premise?
If you buy an On-Premise license or Support Plan, you are eligible for a full refund within 30 days of purchase.
Just email support@inflowinventory.com within that 30-day period and we'll help you out.
Hi, just a quick check to see if this was the product you were looking for.
inFlow On-Premise hosts inventory locally, not online
We no longer provide new features or bug fixes for inFlow On-Premise
If you want online inventory access and regular updates, we recommend inFlow Cloud