What are DPI settings you may ask? DPI settings are a quick way to increase or decrease the size of text and icons on your computer screen, but they may have some drawbacks when using certain programs that aren't compatible with non-standard DPI settings.
inFlow is designed to work with 100% DPI settings.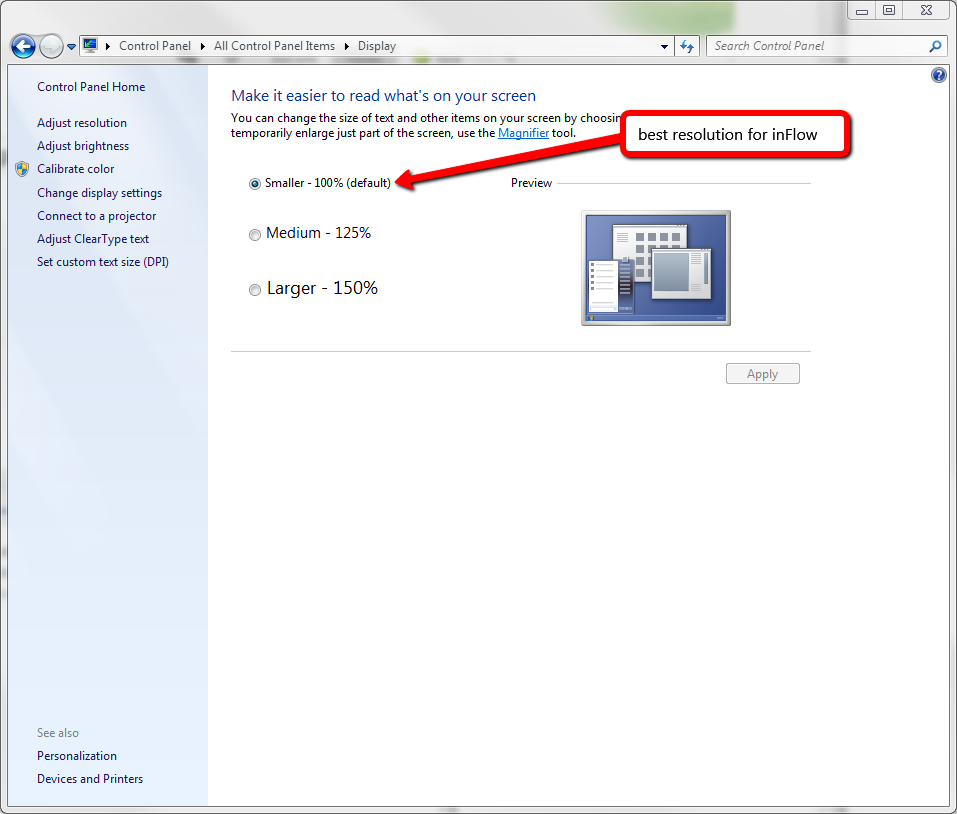 It's important to take this into consideration when setting up your computer since, in some cases the display may appear re-arranged such that an option here or there is difficult to see or hard to use. Anything other than the 100% size has the potential to cause this issue and some systems with larger screens may be set this way by default so if you're seeing some minor display issues this could be the case with your system.
The following is a list of suggested DPI settings for computers using inFlow.
Windows XP: Should be set to 100% DPI (as above)
Windows Vista, Windows 7 & Windows 8: The best option: set to 100% DPI but for large monitors, you can set to 150% DPI. Ensure the option "Use Windows XP style DPI scaling" is OFF. This will enable DPI virtualization, where inFlow will be stretched out a bit. It'll be usable but may look a little bit blurry.
Windows 8.1 & 10: Best to leave the option "Let me choose one scaling level for all my displays" off. Then Windows 8.1 should automatically handle this. If the option is on, then the user should specify either 100%, 150%, or 200% DPI. (125% won't work quite properly).