As of inFlow On-Premise v3.3.1, inFlow can integrate with Magento v1 directly. Click here to get the latest version of inFlow!
If you've got a Magento shop set up, you'll need to obtain some information from your admin panel before you can connect it to inFlow.
Obtaining your magento api credentials
You may need to create this first:
On your Magento admin panel, click on System > Web Services > SOAP/XML-RPC – Roles.
Click on Add new role at the top right. Create a new role name here (you can name it anything you want).
Click on Role Resources on the left. Set the Resource Access to All.
Click Save Role.
Now we'll need to create a user. Click on System > Web Services > SOAP/XML-RPC – Users.
Click on Add New User and fill in the fields. Pay attention to User Name  and API key as these would be used on the inFlow side to access the Magento API.
Click on User Roles at the left, and select the role that was created in steps 2 – 4.
Finally, go to System > Configuration > Magento Core API and set the WS-I Compliance to Yes.
Setting up in inFlow
Next, you're ready to set up the integration! This section requires you to fill in the login details as above and how to connect Magento's item names/customers with inFlow's item names/customers.
Credentials
Go to Main Menu > Options > Integrations.
Click on Activate on the Magento option.
Fill in your Magento website URL (please use https:// as http is not recommended), User Name and API Key.
Click Next.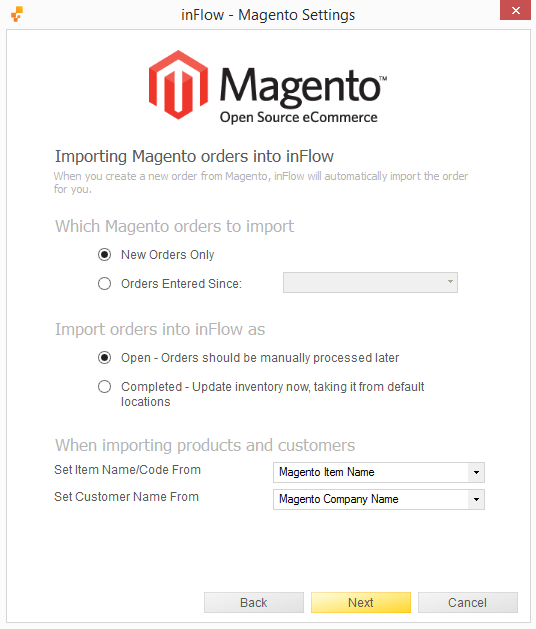 Which orders to import
If you've already been using inFlow, it's likely you've already added your existing orders from Magento into inFlow. So, it's best to choose the New orders only option. New orders only will begin bringing in any new Magento orders as of the moment you click the Sync Now button.
If you want to import historical orders in addition to new orders (i.e. orders from before you clicked Sync Now), you can set a specific date here to import all orders since that date.
Please Note: this is not advisable unless you have historical inventory levels too — importing historical orders while using current stock levels would result in your inventory counts being wrong.
Import status
This section covers whether or not the orders you've chosen to import above ("New orders only" or "Orders since a specific date…") are set as Open or Complete.
This really depends on your workflow, for example importing new orders as Open means you could use inFlow to keep track of any orders that haven't been shipped yet, and then complete them in inFlow as you ship out the items. If you'd prefer they be created as complete to automatically deduct inventory instead, that's fine too.
IMPORTANT: If you are importing historical orders as completed and you only have current stock levels, be aware that this will deduct your current inventory levels. It may be best to export your stock levels , import the historical orders as completed, then re-import the stock levels back into inFlow to ensure that you have the correct counts going forward.
When importing products and customers
This section deals with matching up the products/customers in inFlow and the products/customers in Magento's orders. Note also that only products and customers in the imported orders will be synced — not your entire product/customer list.
For example, let's say you already have products in Magento, with the Item Name "Blue Shirt Medium" and the SKU "BLS0001M" . If you don't have the product in inFlow, and it's included on an order, it will be created for you when syncing. You will need to decide if inFlow creates the item using the Magento SKU, or by the Magento item name itself. SKUs are typically unique and it would generally be the better choice.
If you already have products in inFlow, then you need to make sure they match up — for example, if you created inFlow's item name as "Blue Shirt Medium" and then set the options to import using "Magento SKU"– you will end up with two separate items in inFlow (even though they are the same product):
Blue Shirt Medium (original item)
BLS0001M (item code imported from Magento)
For inFlow's Customer Name, you can match it to Magento's Company Name, Customer Name, Email, or Customer Name + Email. You can check this information in the "Manage customers" screen in your Magento Admin Panel.
When you're done, click Next to continue.
Backup
Integrations cannot be reversed once they are synced — so it's a good idea to backup your data before proceeding! Click the Finish button to have inFlow make a backup. If you're confident you don't need a backup, un-check the box beside Backup your data and then click the Finish button.
You'll be back at the main Integrations screen. Click the Sync Now button to start syncing! You can check back here periodically to see if everything is running well, or just to see when the last sync occurred.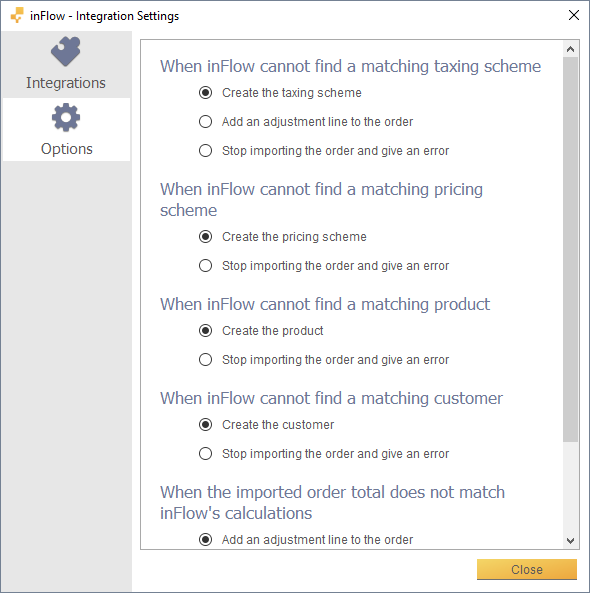 Options
Other advanced options for syncing can control what inFlow does if it comes across information from Magento that doesn't match your inFlow data. You can get to this screen by going to the Main Menu > Options > Integrations > Options. Note that the settings in this screen apply to all your active integrations, not just Magento.
For example, you might not want inFlow to create products automatically as that might lead to duplicates (as in the example above with the Blue Shirt Medium). Here, you can change the setting to "Stop importing the order and give an error" when inFlow cannot find a matching product. You can then compare inFlow and Magento item names to see why there may be this discrepancy. You can also do this for finding a matching customer, pricing scheme, or taxing scheme.
Troubleshooting
Often if you're having trouble it can mean that there's a problem with your web settings. An easy test you can try is to try going to your magento URI with /index.php/api/v2_soap/index/?wsdl added to the end.
e.g. https://YourMagentoStore.com/index.php/api/v2_soap/index/?wsdl
Once loaded, you should see a WSDL document (it'll look like lots of jumbled text) but the key is that this page doesn't redirect you elsewhere. If you see the text, you should be good to go and you'll want to follow the steps above to get set up.
If the link is not accessible, integration cannot be set up. In order to fix this, you'll need to adjust your Magento web server settings (for which likely need to contact your IT administrator) to ensure that your WSDL document becomes accessible. Then, try setting up Magento integration once again, and it should complete successfully.
Do your sales orders show up in inFlow with the wrong numbers?
It's possible that there's a problem with number formats on your computer.  This can happen if you're from a country that uses commas as the decimal point.
You'll need to change the separator settings in Windows to fix the problem.  Magento will only output numbers using a period (.) as the decimal place and commas (,) for separating thousands.  To fix this in Windows:
Open the Start menu and type Control Panel, then click on Control Panel.
In the Control Panel, click on Region or Change date, time, or number formats to open the Region settings.
In the Region settings window, click on the Format drop down menu and select English (United States).
Click Apply, then click on the Administrative tab at the top of the window.
In the Administrative tab, click Copy settings…
In this window, check the box that says Welcome screen and system accounts to copy the number format settings to the system account.
Click OK, and then OK again on the Region window.
Close inFlow (if it's open).
Type Services into the Start menu and click Services.
Find the service called inFlow Automation Server and right click on it.
Choose Restart and wait for the service to finish restarting.
Re-open inFlow and try syncing another order from Magento to see if the numbers are correct.
If you have any other trouble try restarting the computer entirely.
Still not sure, or looking for more info?
Check out the video tutorial below!