Is your copy of inFlow greyed out? Check the top of your program to see if it says inFlow inventory – Free edition or inFlow On-Premise – Free Edition. If it does say so but you've previously already bought licenses, read on to see what could be causing this:
Do you currently have internet access?
inFlow requires an internet connection to verify your licenses. If you aren't online then this is why your inFlow is showing you the free edition. If you need to use inFlow without internet, please complete an offline activation to continue using inFlow without internet access.
Check your inFlow homepage
If you do have internet access, then we'll need to know which situation you're in as there are four different causes for this issue.
To start, please go to the inFlow Homepage (Main Menu > General > Homepage) and check the information on the right-hand side underneath the "SHORTCUTS" section.
Check if you are logged in to your inFlow web account
If you're logged in to your inFlow web account, then it should look like the screenshot below. You should see "YOUR ACCOUNT", along with Regular/Premium licenses (if you don't see this, please skip to the next Homepage screenshot).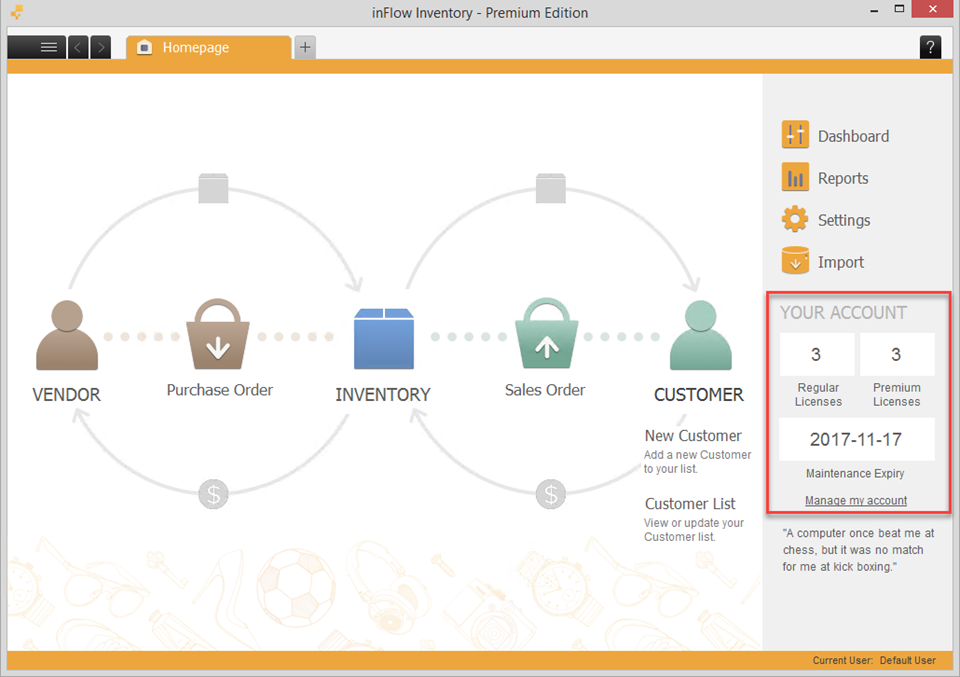 This means that your inFlow is logged in and correctly showing your account's licenses, but as you're still on the Free edition it could be that your licenses are being used by other computers in multi-user mode.
If you have more computers connected than the number of licenses, the licenses will go to users on a first-come, first-serve basis. For example, with 3 licenses and 5 computers, the first 3 computers to open inFlow will get the licenses. The other 2 computers will remain on the Free edition until one of the first 3 closes inFlow, which will allow the license to be available for use.
You can check who is using the license by putting your mouse over number of licenses. It will show the computer names.
If you are sure that there are no other computers connected or that the number of licenses match the number of computers (e.g 3 licenses, 3 computers, so all 3 computers should have a license), then please try restarting your app server on the server computer to fix the problem.
"Free Only" User Rights
Another reason could be that you're using a user login that doesn't have permission to use the licenses. An administrator/default user can set up permissions in the inFlow settings so certain user logins would use different editions. In the example screenshot below, the user "User1" is set to use "Free only" when logged in.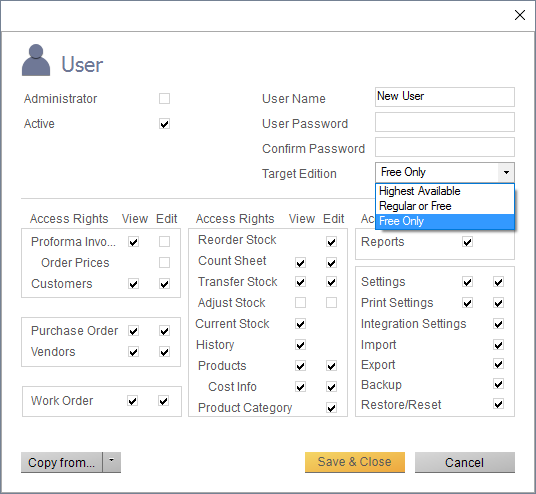 If you suspect this is the case, you will need to contact your administrator to change the settings to allow you use of the licenses (non-administrators cannot access the user settings menu).
Log in to your inFlow web account
If you see TRIAL and the words Sign up for a trial or Log In to your account, it could mean you've accidentally logged out of your account, or if you've just reinstalled inFlow and need to log in again.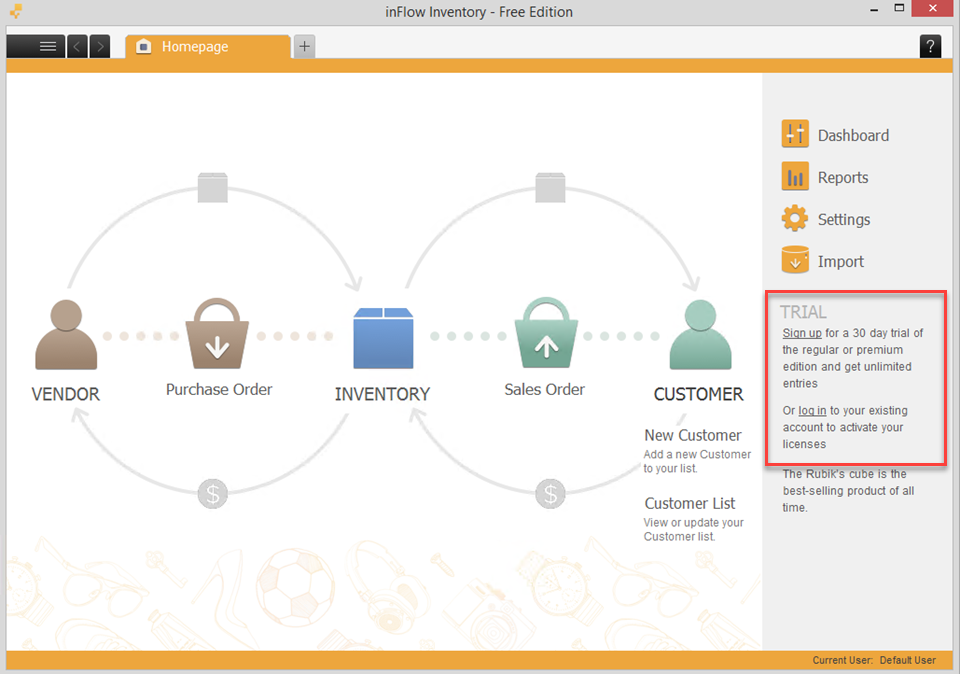 Simply click on Log In and enter your web account email and password. This will re-apply the licenses that you have paid for. If you don't know your web account email / password please contact us so we can help look it up!
Check that inFlow is allowed through your firewall/antivirus
If you do not see anything at all under the SHORTCUTS section, and you do have internet access, it could mean that your inFlow cannot connect to our licensing server due to something blocking it (e.g. an antivirus, firewall settings, proxy settings).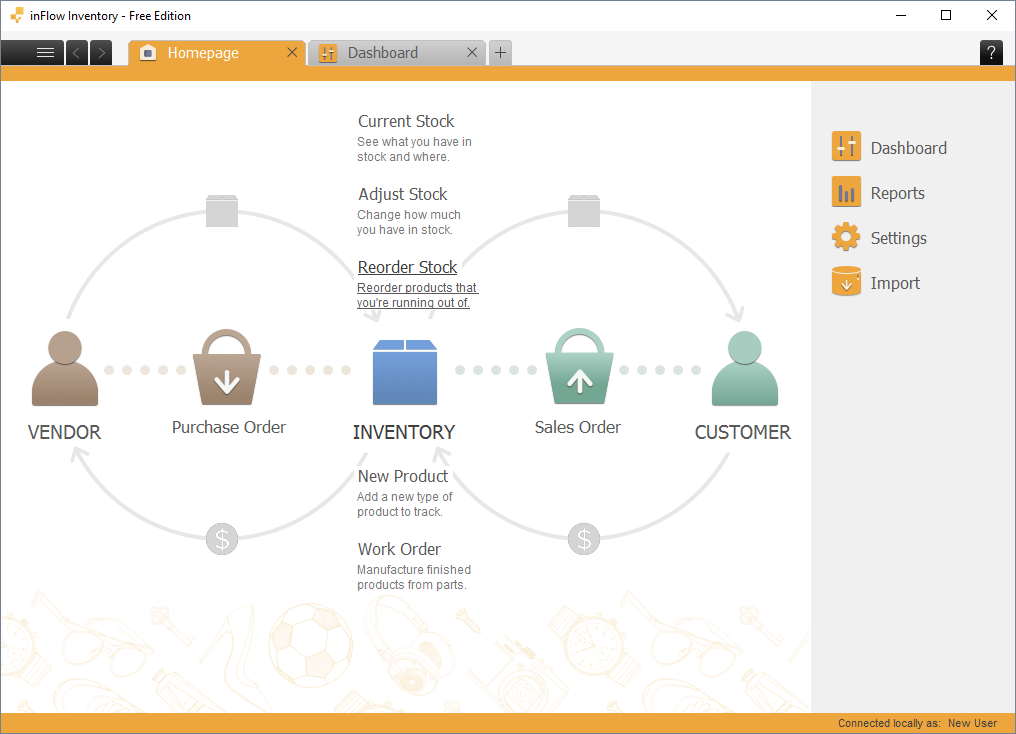 Try going to Main Menu > Options > About inFlow and click Log In. If you're getting an error saying "the inFlow server cannot connect to the internet" then you might try these steps.
Most often this is caused by a 3rd party antivirus controlling your firewall and won't allow inFlow through You can try temporarily disabling the antivirus, then restarting inFlow. If it works, then you can check your antivirus / firewall settings and ensure that the inFlow program is on the list of exceptions/exclusions.
If none of the above helped, please get in touch with us at support@inflowinventory.com so we can help you troubleshoot.