For inFlow On-Premise v3, not only did we want to make the calculations more powerful, we also wanted to reduce data-entry errors and ensure that your numbers make sense. As a result, some unusual cases that were valid in v2 are no longer valid in v3. Examples of these cases include:
A sales order/purchase order contains at least one item fulfilled/received that is different from what was ordered
A completed work order caused at least one component to go into negative inventory
A product's type was changed after it's been received/sold
If your database contains scenarios listed above, inFlow will notify you during the update process.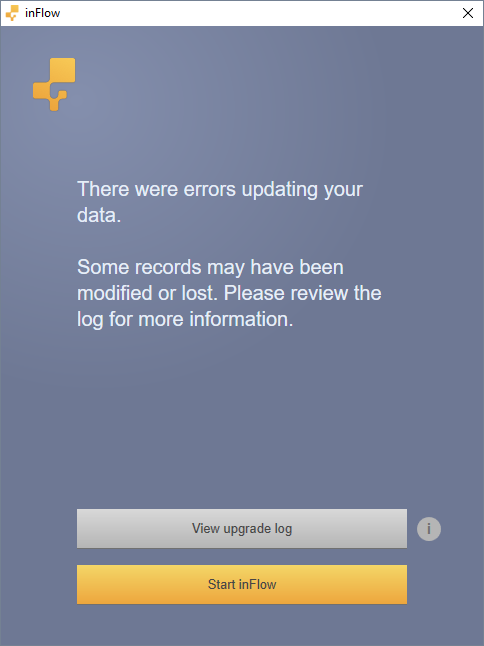 If you see this screen after updating, you can click on "View Upgrade Log" to view a text file showing you the order numbers affected. Otherwise if you've navigated away from this screen already, you can access the upgrade log by going to your C:\ProgramData\inFlow Inventory\Backup\inFlow v3.X Upgrade  (where X is the version of inFlow you have upgraded to, for example v3.4) and look at the latest file that says "UpgradeLog". You can also find your v2 backup here.
These orders will be moved into inFlow v3 with a "Cancelled" status. To see these cancelled orders, navigate to the appropriate order listing view and click on any one of the filters to change it to "Show Cancelled". Change the dropdown to show "Cancelled only".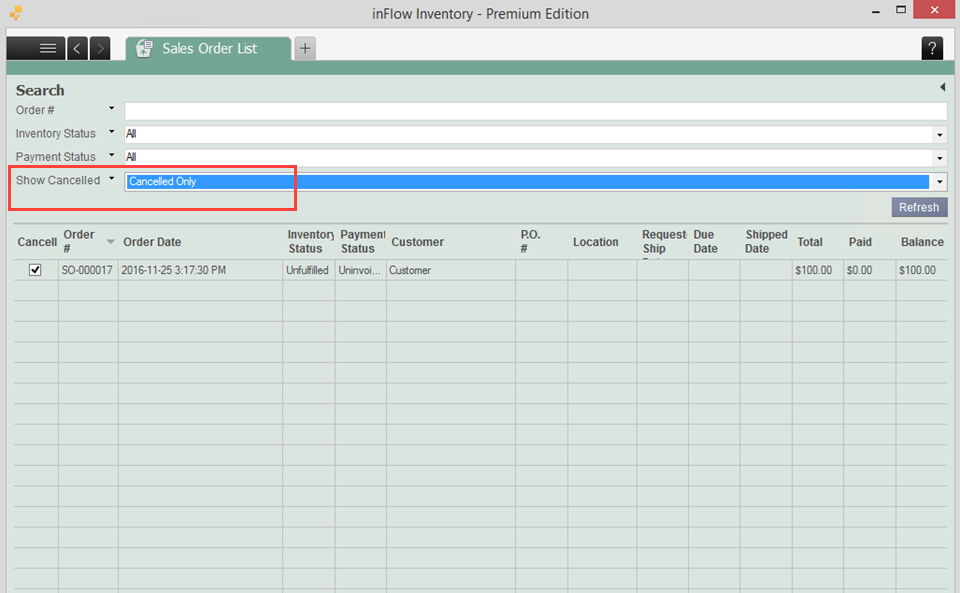 Another important thing to note is that as part of the migration process after adjusting any problematic orders, inFlow may have automatically created a stock adjustment to ensure that your final inventory numbers in v3 matched what you had in v2. You can find this adjustment in the "Adjust Stock" window under the Adjustment Number "v2-v3-Migration".
As inFlow has already done this stock adjustment for you, note that if you decide to re-open and correct the orders, it will be another adjustment on top of the previous one, so you should cancel the stock adjustment if you wish to proceed with correcting the orders.
We recommend leaving the cancelled orders and stock adjustment the way they are after updating to v3. inFlow will ensure that your current inventory levels and costs in v3 for the current time match what you had in v2. Based on this, you can continue using v3 as normal, while recognizing that some of the historical information might be different.
If and when you need a report for information prior to when you switched to v3, you can use the reports from v2 for this purpose. You should store your v2 backup for this purpose so you can revert to it and refer to this information. You can either generate all the reports you might need from v2 now and store them for reference, or re-install v2 at a later time.
For example, if you switched to inFlow v3 on September 1, 2014 and at the end of the year you find that you need a report for your total sales for 2014, you can use inFlow v2 to generate a report on sales from January 1, 2014 to August 31, 2014, and inFlow v3 to generate a report on sales from September 1, 2014 to December 31, 2014.