If you'd like a look at the additional features, you can test the inFlow On-Premise Premium edition by requesting a 30 day trial. First, you'd need to install the the free edition here.
To turn on the trial, go to the right sidebar of inFlow's Homepage, and then click Sign Up for a trial.
NOTE: You need to be connected to the internet in order to start a trial and to use the trial version for the 30 days.
After the trial is over, if you have exceeded the limit of 100 products/customers inFlow will become read-only (i.e. you cannot edit any data, only view it). When you have upgraded to Regular or Premium, the data will become available for editing again.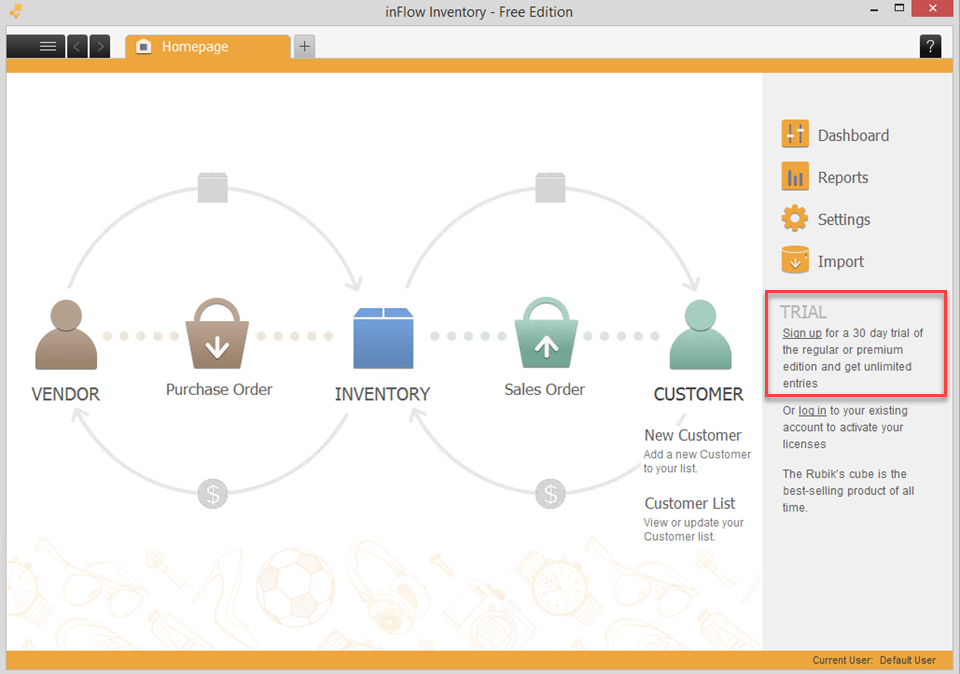 How do I stay on the Free edition after the trial?
If you haven't exceeded the limit of 100 products + customers total, you should be able to continue using inFlow after the trial expires with no problems.
It's important to note that deactivated products and customers still count towards your total so if you have been deactivating items they would still add up.
You can check your total number of products by going to the Main Menu > Inventory > Product List and right-clicking Refresh. You'll see the total number of products listed in the bottom left hand corner of the screen. The same can be done from your Customer List, so check that number as well. This probably only shows the number of active items, so try setting your filters to show "all" products  to get the correct number.
If it's over 100 total, then you'll need to buy a license in order to continue using inFlow. You can also contact us if you think you'll need more time to evaluate inFlow before buying a license.
However, if you think you can manage with the Free edition, then you can archive your database and start over with the information you want to keep (under 100 products + customers total). During the archive steps, get rid of mistakenly deactivated items and cut down on the items/customers to track.
Should you have any further questions or concerns while you're evaluating please do not hesitate to contact us!
Can I set up inFlow On-Premise to work offline?
If you've purchased an inFlow On-Premise license, you can activate your license to work offline (please see here for the steps). Unfortunately, this isn't possible in the trial or Free edition.
Are you a non-profit?
If you're a non-profit or educational organization take a look here to find more information about our pricing options.