The support plan provides support for all things inFlow On-Premise—this includes things like installation issues, errors when starting the program, or questions about how to get something done in inFlow via email, live chat, or phone support.
The inFlow Support team only supports the following On-Premise versions: 3.5.2, 3.6.0 & 3.6.1.
Your On-Premise license purchase provides you with a one-year support plan. For as long as your plan is valid, you get access to support. Purchasing more support time is optional, and it is not required to continue using inFlow On-Premise.
The inFlow team is available Mon-Fri 3:30am to 5:00 pm EDT/EST.
Once your support plan expires, you can choose to renew it for another year. This is priced at $99 per Regular license, $199 per Premium license on your account. If you choose to renew, the payment will renew your plan for 1 year (from the date of your payment).
I don't want to renew my support plan. Can I still use inFlow?
If you choose not to renew, that's fine! You can continue using inFlow on the last software version released before your support plan expiry date. Support will be limited to our knowledge base articles only. Therefore email, live chat, and phone support isn't available for licenses without a support plan.
Each time you need to reinstall inFlow (or add another computer), you'll need to log in to your account to download the version you're eligible for. You can also download other versions of inFlow On-Premise from here.
How do I renew my support plan?
You can renew your support plan by logging into your account and click Extend my plan. If you turn on Automatic renewal, you get a 10% discount applied automatically (so $89 per Regular license, $179 per Premium license)!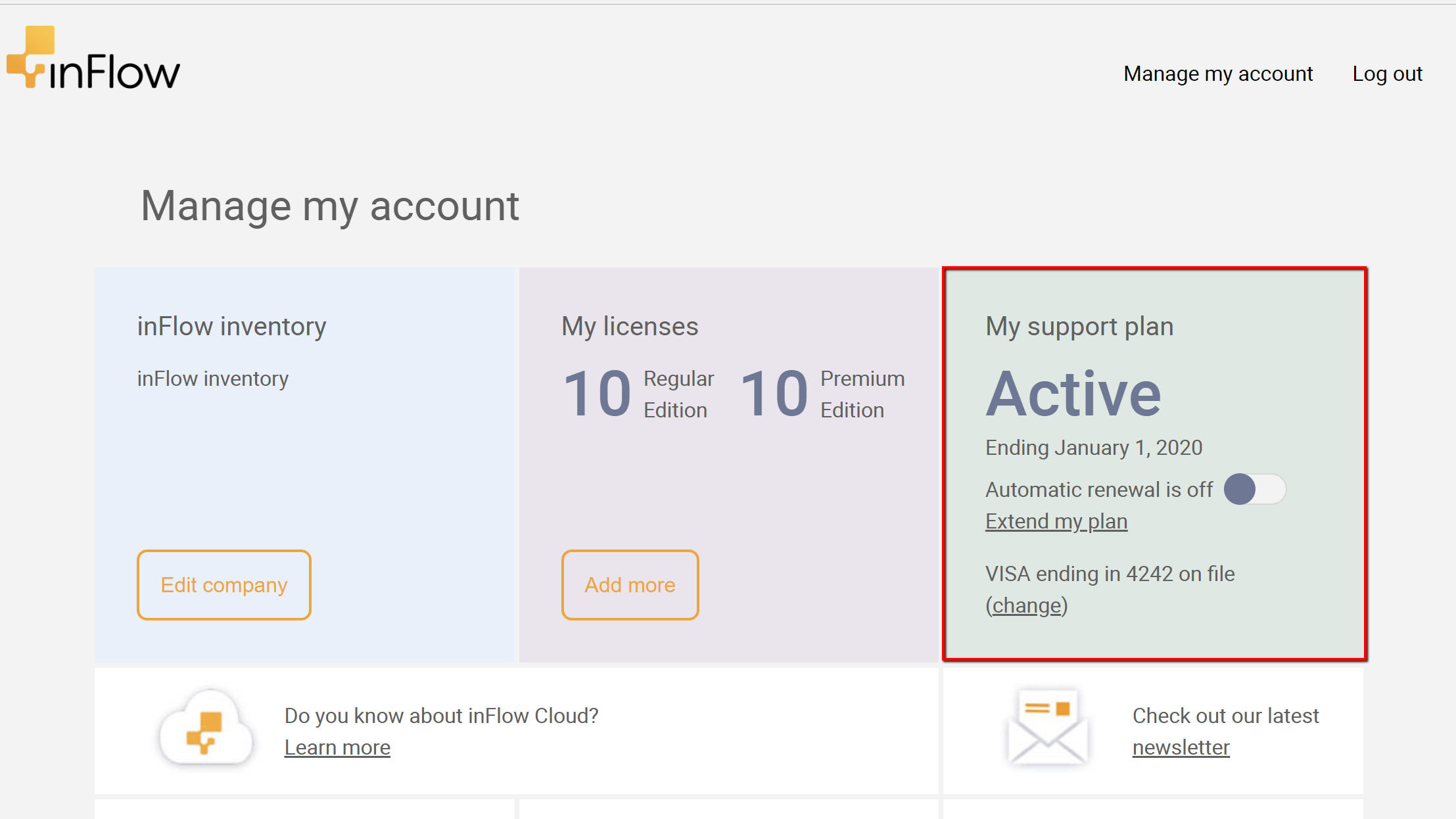 Do I get support if I buy new licenses?
If you buy new licenses, yes, you do! It won't be a full year (that's only done by renewing your plan as above), but your support plan expiry date would be extended based on the total number of licenses you have after purchase.
NOTE: Upgrading an existing license from Regular to Premium does not extend your plan, as there is no change in the total number of licenses you have.
If you'd like to check the new expiry date before purchasing, simply use the following formula:
[ 365 days ÷ total number of licenses after purchase ] days + Payment Date = New Expiry Date
How about New Features or fixes?
As of v3.6 of inFlow On-Premise we will be focusing our development efforts on inFlow Cloud so there will be no new features added to the program. That said, there are no plans to end technical support for inFlow On-Premise and the team is still here to help!