Are you a non-profit or educational organization that's on a mission to improve the world? We think that's great, and we'd love to help.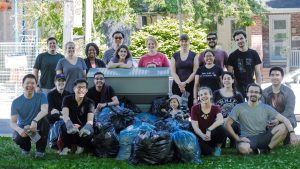 At inFlow, we give back to society as much as we can. Each month our parent company, Archon Systems, donates a portion of our profits to micro-lending organization Kiva (kiva.org). This helps entrepreneurs globally to, "Start or grow a business, go to school, access clean energy or realize their potential. For some, it's a matter of survival, for others it's the fuel for a life-long ambition." Twice a year we also volunteer with non-profits in our local community, you can keep up with our volunteering by checking out our Blog!
So, with this in mind, we want to give you the tools to make a bigger impact in your own community. Whether you're giving aid to those in need, or shaping the future problem solvers of the world: we want to help you help others.
We recognize that budgets can be a major concern for non-profits. So we offer special pricing for non-profits and educational institutions. If this applies to you, please reach out to us at support@inflowinventory.com so we can discuss pricing options!